Our 2012 Grant Application is now available and can be downloaded by clicking here: NEOAG GRANT APPLICATION. Deadline is November 15, 2012.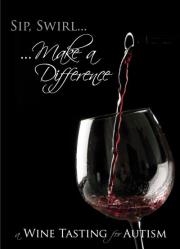 This annually sold-out event features Grand River Cellars' Austin's Red and Austin's White, two 'wines for autism' displaying label art from local children with ASD. There will also be samples of wines from around the world.
Event Details:
Sip, Swirl… Make a Difference
A Wine Tasting for Autism
Thursday, April 26, 2012
6:00-8:30 pm
Gavi's Restaurant
38257 Glenn Ave, Willoughby
Tickets are $50 per person and include all tastings along with heavy hors d'oeuvres, live music by Superfly and various auctions. All proceeds benefit NEOAG to support local programs and services for those with autism in our area. Space is limited.
Presented by:
Dworken And Bernstein Co LPA
Rainbow Babies and Children's Hospital
Hattie Larlham
Integrity Staffing
Jan-Pro Cleaning Systems
Kenneth J. Fisher LPA
Lake Hospital System
Marous Brothers Construction
Osborne Capital Group
Re-Education Services